HBCU Connect (www.hbcuconnect.com) and Microsoft (www.microsoft.com) today announced a partnership effort designed to promote hiring of African-American military veterans with relevant experience or education for career opportunities as part of Microsoft's Military Staffing program, formally known as We Still Serve (www.westillserve.com).
By working directly with HBCU Connect, the goal is to build a talent pipeline that introduces African-American military veterans to stable post-military careers in the tech industry. The We Still Serve website offers a "job decoder" to help active military personnel better understand how their unique qualifications will best translate to careers at Microsoft.
"Making the transition from active duty to vibrant careers in the private sector is one of the biggest challenges for any veteran," explains Will Moss, founder and CEO of HBCUConnect.com. "By combining the wealth of database information available from HBCU Connect with the vision of We Still Serve, African-American veterans will see a lot more doors open for them."
Microsoft's recruitment team is partnering with various military bases across the United State to roll-out the Microsoft Software & Systems Academy (MSSA). The 16-week program helps transitioning military personnel gain technical job skills training that can lead to an industry standard Microsoft certification and the opportunity to interview for technical roles with Microsoft and partners for potential employment.
The pilot program was launched in Washington state with St. Martin's University at Joint Base Lewis-McChord, the largest military installation in the western United States. Active duty members from all branches of the military, including the Reserves and the National Guard, are eligible to attend, and more locations are on track to open.
By aligning with the HBCU CONNECT, Microsoft can directly recruit African American veterans, as members that join the website can indicate their past experience in the Military. HBCU CONNECT also is working on connecting Microsoft with veteran populations from such organizations as the National Association for Black Veterans, the National Federation of Black Veterans, and the National Association of Black Military Women.
"This is just one example of how HBCU CONNECT can help corporations link their recruitment efforts with a rich, diverse and uniquely experienced talent base," says Moss, whose active efforts within the African-American community have launched similar minority recruitment programs with other organizations.
Veterans who wish to submit a resume or learn more about connecting with the Microsoft We Still Serve program through HBCU Connect can visit
www.hbcuconnect.com/westillserve
for further information.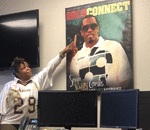 Posted By: Elynor Moss
Wednesday, April 23rd 2014 at 12:24PM
You can also
click here to view all posts by this author...